Results tagged ' Bruce Levine '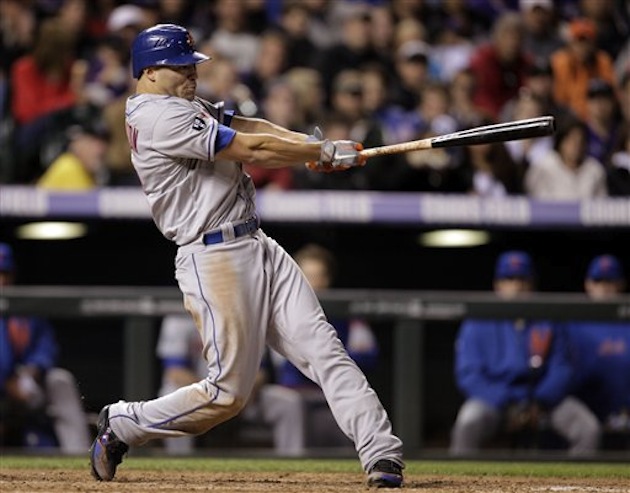 After not getting what he wanted from the Mets (2 years, $8 million) Scott Hairston found a deal he liked on the North Side.  Ken Rosenthal was first to report that the Cubs agreed to a two year deal with Hairston, and Bruce Levine later confirmed that the deal could be for two years and six million dollars.  It's a tremendous signing if those numbers hold true as Hairston can play any outfield position and is a nightmare for left handed pitchers, which Cubs teams have struggled with in the past.  The Cubs have been in the market for a right handed bat for some time, and this signing quenches that thirst for the Cubs, Hairston will be in the mix with the likes of Schierholtz and possibly Sappelt as situational players, spot starts and coming off the bench so to speak.
Thanks for reading,
- George
Posted on January 24, 2013 at 8:58 am

Filed in:

Off Season
I'm sure like me, all of you have been waiting on pins and needles to see what the next Cubs move or rumor would be coming from this week's Winter Meetings.  Well thanks to Bruce Levine we have it, the Cubs and Ryan Dempster's agent have discussed a possible return to the Cubs.  If you are done laughing I will continue, yes Ryan Dempster, the same Ryan Dempster that was "blindsided" by a trade that would have brought Randall Delgado to the Cubs at last seasons trade deadline, I hope he knows
his agent is talking to the Cubs.  Given everything that happened last year would you as a fan want Dempster back?  If the initial deal last year at the trade deadline went through I'm sure that answer would be a resounding yes, but as it was clear Dempster was going to drag any possible deal right up to the deadline Cubs fans grew tired of his act, and him.
So is this really possible?  Yes, it is, in fact the Cubs need pitching depth even with their recent signings of the two Scott's, Baker and Feldman.  The surprise is that it is Dempster, and per Levine the Cubs and Dempster's agent have discussed money and length of contract but no offer has been made.  Up until this evening the Brewers and Royals have shown the most interest in Dempster, with Dempster already turning down a 2 year $26MM offer from the Royals because he wants a third year.  The door seems like it's open for the Cubs to make a play here but Levine cautions that there is a sticking point….wait for it… Levine sees a no-trade as a potential obstacle to Dempster returning to the Cubs.  You can't make this up!  Ah Dempster, the lovable jokester, my favorite joke was last year at the deadline, but it seems as though he's shooting for a new high, or low with this one.  More as it comes.
(Update) 
Report of Cubs-Dempster talks grossly misrepresents their nature. Negotiations not happening. Reunion implausible. #courtesy
Wittenmyer says not so fast to Levine's report, I would tend to side with Gordon on this one.
Thanks for reading,
- George
Posted on December 5, 2012 at 8:28 pm

Filed in:

Off Season