Results tagged ' Casey Coleman '
The last two Spring games have been a blue print of what the Cubs want to do this season.  Timely hitting, a long ball or two, solid defense, and quality pitching, the more they get all of that, the more wins they will have.  Dempster, Russell, Parker, Mateo, Corpas, and Coleman combined on a gem.  Cubs pitching allowed six hits and one run on the day.
Dempster's Outing (Click image for video)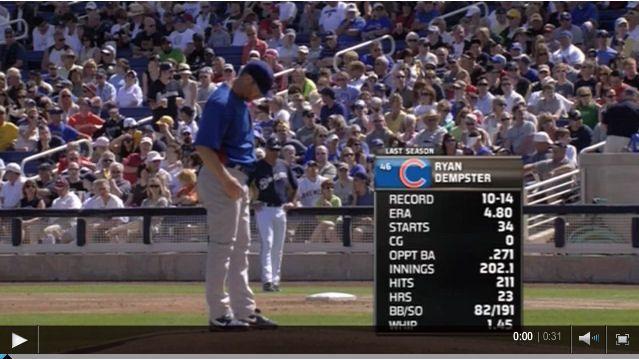 The Cubs offense continued it's torrid pace Tuesday afternoon against the Rockies, pounding out 14 hits and scoring 11 runs.  The Cubs have double digit hits in all three games this spring, and have scored 28 runs.  These gaudy numbers have only yielded one win, but Cubs fans have to like what they see.  Alfonso Soriano got things started today by blasting a 450ft home run, his first of two bombs on the day, to pull the Cubs within one, and the bats never looked back after that.  Later in the inning, Cubs top prospect Brett Jackson hit a big 3-run homer to put the Cubs up for good 4-2. Anthony Rizz also had a productive day at the plate getting two hits, and driving in two runs.